What's New?
Just in from Spain!

2012 Borsao"Tres Picos" Garnacha
Situated in Campo de Borja, Spain - the heart of the "Garnacha Zone" - Bodegas Borsao is carrying on a centuries old tradition of winemaking.
The earliest written records date back to 1203 and the Monastery of Veruela where monks had an essential role in the development of vinegrowing and winemaking in the region.
Their mountain vineyards, situated at an altitude of 1,800 to 2,000 feet above sea level, were developed on stony, slimy soils rich in clay and limestone, that historically made great wines.
The concept of terroir was unknown to those early winemakers, who believed the beauty of the area could be tasted in the items they produced there.
The diversity of microclimates and soils enriches the nuances of the impressive Garnacha vine-growing assets of this land, giving it the nickname "The Empire of Garnacha"!
This grape accounts for more than half of the wine produced here, and fully 40% comes from vines that are between 30 and 50 years old.
The production is not high, but the wines are held in high esteem due to the structural and aromatic complexity they yield. In fact, Robert Parker lists Borsao on the Wine Spectator list of "Top 100 Wineries of the World"!
Wine World has just received a shipment of Bodegas Borsoa's 2012 bottling of "Tres Picos" Garnacha - a wine that at $16.99, represents a tremendous value in today's market!
The winemaker describes it as...
"Very intense cherry red color with tones of purple. Presents in the nose a great concentration of aromas of ripe red fruit with floral nuances. In the mouth it is a well structured rich wine that evokes tastes of blackberry, plum and tones of leather and vanilla, with a soft and silky tannin."
And speaking of Robert Parker, here's what he had to say while awarding this wine 92 points...
"The terrific 2012 Tres Picos is one of the finest inexpensive, Grenache-based wines made in the world. This full-bodied beauty boasts a deep ruby color as well as loads of strawberry and black cherry fruit, hints of lavender and crushed rocks, sweet tannin, and a broad, savory mouthfeel."
You don't often get the opportunity to enjoy wines like this at a price point below $20! We wanted to get the word out on this wine, because if response is as good as we believe it will be, we want to buy up more of it before it's all gone!
Pick up a bottle on your next visit, and please offer us your feedback on how much you enjoy it! At Wine World, your input greatly influences our buying decisions. After all, you are who we do all of this for!
Only at Wine World!
New Beans in Stock!
From Counter Culture Coffee
I don't know about you, but when it gets this cold out, one of my favorite beverages is a nice hot cup of fresh coffee made from beans that were just roasted last Tuesday! It doesn't get much better than that!
We wanted to let you know that Counter Culture coffees are still being sold at Wine World, and we have got what the others have not!!
Elizabeth was able to secure the very last of the "La Florida" beans available anywhere! She's the reason why Counter Culture is sold out - she bought all they had left! And for good reason!
This single variety lot from the Columbian region of Nariño contains solely Caturra beans, highly prized for their rich flavor with notes of brown sugar and dark fruit emphasized by a creamy mouthfeel.
That flavor is what kept it flying off the shelf, and we are very happy to offer what's left to the lucky people who get here quickly enough!
But if it's all gone before you can get to Wine World, don't fret... we've got others, including one of our all time favorites, Valle del Santuario.
It comes from five small communities that have been part of an exclusive Counter Culture project in northern Peru for 8 years now! They make beautiful coffees with balanced notes of chocolate, plum, spice, and vanilla with a smooth, round body.
It's all "Certified Organic" and Counter Culture "Direct Trade Certified", so it not only tastes good, this is coffee that you can feel good about as well.
Wine World wants to be your "favorite beverage store", and on these cold mornings, a nice fresh cup of Counter Culture coffee is certainly one of my favorite beverages! How about you?
Just In from Napa Valley
2012 Carne Humana Red Wine
Named for the 1841 upper Napa Valley land grant, "Rancho Carne Humana", the bold and nuanced character of this wine is a worthy expression of the rich history and diverse soils of the land from where it is sourced.
In the mid-1800's, General Mariano Vallejo granted Edward Bale territory in what is now upper Napa Valley from St. Helena to Calistoga. Bale, a lover of a good libation and a bit of an eccentric, named the land Rancho Carne Humana.
Today, much of California''s best reds come from this region - something Bale would surely be proud of! The gravelly loam soils and warm Napa Valley climate are perfect for producing opulent, richly textured red wines with perfect balance and great showmanship.
The entire valley floor and foothills on either side are home to a high concentration of old vine reds, and it is the fruit of these vines that form the basis of this wine. It is sourced from six vineyards throughout Rancho Carne Humana.
The grapes are carefully selected and used to produce a "field blend", combined together and co-fermented, then barrel aged as a single lot to create a wine with greater depth and integration.
Petite Sirah provides structure, an inky color and chocolate notes. Zinfandel offers its lively acidity and dark red fruit. The firm tannin structure, and violet and anise notes are contributed by Petit Verdot while Syrah lifts the blend with its own rowdy fruit, cured meat and pepper influence.
Merlot keeps the exhuberence in check with a rounded mouthfeel and broad, ripe core, and Charbono acts as the mortar to hold it all together through its spiced cedar and bright, tuned acid.
Priced at 29.99, the bold structure, balanced acidity and firm tannins give this wine tremendous depth, intensity and length straight from the shelf, but also shows the potential to age gracefully.
The 2012 vintage of Carne Humana Napa Valley Red Wine is available on our shelves now. Come claim your bottle today!
Only at Wine World!
Ultra-Premium Tequila!
Casamigos Tequila!
Casamigos is a small batch, ultra premium tequila made from the finest, hand-selected 100% Blue Weber agaves, grown in the rich red clay and cool climate of the Highlands of Jalisco, Mexico.
Imagine if you were going to make a tequila that was just for you... not to sell, but to hold onto to share with your best friends in the comfort of your own home. That's pretty much the story of Casamigos!
Born from Tequila-filled nights with friends, these guys wanted to make the best-tasting, smoothest tequila whose taste didn't have to be covered up with salt or lime.
So that's just what they set out to do!
Working for years with a master distiller in Jalisco, they perfected their process. First, they settled on slow cooking of the agave piñas, roasting them in traditional brick ovens for 72 hours. Most others settle for a 7 hour steaming.
When it's ready to ferment, here again they decided not to rush. They came up with a special proprietary blend of yeasts to produce a consistent, refined flavor, over an 80 hour fermentation process, compared to the industry average of 48!
They held many blind tastings until finally, they knew they got it exactly right!
And so, for the past 5 years, they have been drinking their own tequila with friends and family, never intending for it to be released to the public. This was private... this was personal... this was literally their house tequila!
Fortunately for the rest of us, word got out! And now, we are delighted that tequila connoisseurs and consumers alike can enjoy these award-winning spirits!
Blanco - 46.99: The Blanco rests for only 2 months and is crisp and clean with hints of citrus, vanilla and sweet agave, with a long smooth finish.
Reposado - 48.99: The Reposado, aged for 7 months, is soft, slightly oaky with hints of caramel and cocoa. It has a silky texture with a medium to long smooth finish.
Añejo - 55.99: The Añejo is aged for 14 months and has a beautifully pure and refined complex aroma, with soft caramel and vanilla notes. It's the perfect balance of sweetness from the blue weber agaves, layered with subtle hints of spice and barrel oak, with a lingering smooth finish.
This is quality you can taste! This is quality that is now available at Wine World!
"Crafty" Cider and Beer
Presenting some crafty goodness from...
Wyndridge Farm
The wind-swept hills of Pennsylvania are dotted with historic farms containing picturesque views of fields and orchards.
Wyndridge Farm in nearby Dallastown is one of these quaint farms - a shining example of the natural beauty to be discovered at the heart of a historic Pennsylvania farm. It has a soul that celebrates life!
It is also York County's first and only hard cider company! They separate themselves from other hard ciders by utilizing the local bounty of high-quality apples found in Central PA and by keeping the ingredients simple.
Wyndridge Farm does NOT add excessive amounts of extra sweeteners (extra sugars, frozen concentrates, etc.) that can make ciders taste more like candy. Instead they prefer a traditional clean, crisp hard apple cider.
The result is a Champagne-style cider - fresh, simple and tasty - with 5.5% ABV, the legal limit for PA cider! (Any higher, it would be classified as wine!)

And because hard cider is naturally gluten free with a refreshing taste, it's one of the fastest-growing segments in the market today! It can even be warmed up to make the perfect drink on a cold winter's day!
Wine World now has their core product, a clean semi-sweet hard apple cider, and their cranberry version made with the addition of real cranberry juice! They are both fresh, clean and delicious, and each is priced at just $11.99/6-pack in 12 oz. bottles!
You may have noticed that Wyndridge's logo features a scarf-wearing fox. The fox is known as an elegant, sly and crafty animal. It visits the farm frequently for a little "fun." This essence captures the spirit that is Wyndridge Farm.
So why not check out these great hard ciders, and kick up a little fun of your own!
* * * * * * *
American, farm-brewed beer!
Not many companies can claim that title, but the brewing done at Wyndridge Farm is pure country! All of their beer is brewed on-site using the best ingredients they can find.
They are proud to reignite the tradition of the historic American farm brewer producing some of the best beer you will find, and they are passionate about bringing this beer to everyone!
This is craft beer on a grand production scale... their facility is a beer lover's site to see. They even provide educational tours of the beer facility, so if you're looking for a fun road trip or a great outing on a lazy winter's day, get in touch with them about a tour or visit.
Then when you get home, swing by Wine World and pick up a sixer of their tasty "crafty" beer! Here's what we have in stock:
10 Point Ale - 10.49/6-pack: Here comes a big, farm-crafted ale! 10 Point is a golden-blonde ale with a trophy-sized, creamy-white head. This beer is beautifully balanced with hoppy floral and resinous notes that create a rich, flavorful, yet drinkable brew. Packed with gusto, yet surprisingly approachable, Wyndridge Farm's 10 Point Ale is the beer you've been hunting for! 4.8% ABV, 20 IBU's.
Laughing Crow IPA - 10.49/6-pack: Laughing Crow is a more intelligent India Pale Ale. It's brewed with a generous amount of quality hops that brings balance to the sweet malts contained inside. The result is a harmony of floral hops mixed with caramel-tinged malty goodness. This IPA will make you crow just a little bit louder! 6.5% ABV, 40 IBU's.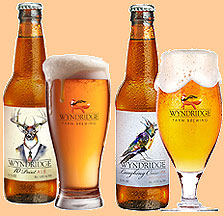 Whether you're into crafty beers or ciders, the good folks at Wyndridge Farm have the taste that will make you smile!
Wine World's Got It!
New Flavor Infused Rums from...
Eastside Distilling
Portland, OR
Eastside Distilling, located on Portland's famed Distillery Row since 2009, is an established, craft distiller with a lineup of innovative, award-winning products that have proven themselves locally and are now taking the nation by storm!
Their "Below Deck" rums are all double-distilled in small batches for unparalleled quality and taste, and bottled at 80 proof to give you everything you'd expect from a hand-crafted premium rum!

Their philosophy is that locally-produced spirits simply taste better, so all of their unique products are made in their home base of Portland, Oregon using all natural ingredients.

We think the taste will also translate to the "Eastside" of the country, so we've added them to our shelves. There's really nothing out there like them, and we hope you will give these new flavored rums a try!
Here's what we've just added:

Below Deck Ginger Rum - 23.99: Below Deck Ginger Rum is a bold and zesty spirit, handcrafted and naturally flavored using only the freshest ingredients.

There's no added sugar, so it mixes well without making your drink overly sweet - although if a sweeter profile is what you're after, it readily mixes with simple syrup or sweetened soda! Either way, it adds a bold and spicy essence to any cocktail!

For a great seasonal favorite, try it in a hot toddy or with hot cider! It also makes a great ingredient for things such as rum balls, pumpkin pie, and just about anything else with a rich, spiced flavor. Below Deck Ginger Rum is the most innovative rum drink you've tasted in quite a while!

Below Deck Coffee Rum - 23.99: Awarded the Silver Medal at the 2011 World Spirits Competition, this new Coffee Rum gets its deep smooth richness from full-bodied Portland-roasted Arabica beans. They gave it all the strong flavor of coffee, but left out the sweet!

Portland takes their coffee very seriously, and they like to say there's so much rich coffee flavor, it couldn't be made anywhere else! Taste it and judge for yourself!

Try Below Deck Coffee Rum today and taste the rich, smooth coffee flavor that the experts agreed was worthy of a medal!

Both of these amazing flavored rums are available on our shelves today! Check them out on your next visit to Wine World!
It's More Fun Below Deck!