What's New?
Press On!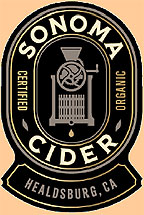 All Natural, Gluten Free, Organic
Sonoma Ciders!
Sonoma Cider handcrafts distinctive, certified-organic craft ciders, made with all natural, gluten-free ingredients.
The company was founded in 2013 by 20-year veteran Cidermaster and winemaker, David Cordtz, with his son Robert, and craft beverage guru Fred Einstein. Together they combine decades of industry expertise with next generation dynamism.
Sonoma Ciders are produced from small organic apples in micro batches to deliver intensity of flavor, balance and a breakthrough experience for this rapidly growing category.
This unique father and son partnership shares an entrepreneur's curiosity and deep passion for beverages to reinvent the cider category.
David has had a nearly lifelong passion for beverages made from naturally grown and harvested ingredients, and has been lauded for his highly refined palate and ability to create unique and high quality flavor profiles.
Robert has been learning the business of beverages from his father for as long as he can remember.
In creating Sonoma Cider this team brings a fresh perspective, a knack for creating things, and a fondness of questioning the status quo. They like to say that together they make Sonoma Cider "anything but run of the mill"!
Take a look at the varieties you can find today at Wine World - both in bottles and some on draught as well for your Growlers!
"The Hatchett" Apple Cider - 9.49/4-pack: News flash: Size Matters! Smaller organic apples simply yield bigger, more intense flavors. And so, using a unique blend of native organic apples, "The Hatchet" was born!
The folks at Sonoma Ciders handcraft each batch to bring out fresh, ripe apple aromas, carefully pairing sweet and tart varietals to create the ideal effect. The result is a clean, refreshing hard cider with noticeable complexity and a lively finish. 6% ABV.
"The Pitchfork" Perry - 9.49/4-pack, Growler/ 10.49(sm), 18.99(lg): Making a really good Perry isn't easy! They are often cloyingly sweet, which would never do for Sonoma Cider! If they were to do a pear cider, the challenge was to do it right - balance, nuance, and intensity - or not at all!
Contrasting crisp and creamy, aromatic and tart, they added all-natural pear flavors to Sonoma's distinct small-apple blend until they hit upon something genuine, with real cider integrity. "The Pitchfork" is an apple connoisseur's pear cider, hand-crafted with organic apples and a measured infusion of pear essence. It's both intense and balanced, greeting you with the distinct aromas of both fruits - a crisp start and creamy pear finish! 6% ABV.
"The Anvil" Bourbon Cider - 9.49/4-pack: Bourbon barrel aging is being done with increasing regularity in the craft beer world, mainly because of the subtle flavors that gets infused into beers. And subtlety is sometimes enough. But, that's not the case with "The Anvil"!
These guys really like bourbon, so they tossed nuance aside! They spiked an organic apple cider blend with a healthy measure of a proprietary barrel-proof bourbon flavor! Suddenly, something intense, alive and memorable happened. It offers a clean, lively, aromatic presence with a layered smoky finish. It's truly integrated and rounded, yet vitally distinct. And definitely NOT SUBTLE! 6% ABV.
"The Washboard" Sarsaparilla/Vanilla Cider - 12.49/4-pack, Growler/12.49(sm),22.99(lg): This may well be the first apple cider blend steeped in chopped Sarsaparilla! Hundreds of pounds of organic Sarsaparilla root, and a touch of vanilla, were used in the making of "The Washboard"!
This combination gives the cider a mild earthy flavor, offset by warm, creamy notes of vanilla and caramel. The final product is herbaceous and dry with a long lasting creamy finish that is reminiscent of root beer but without being too sweet! 5.5% ABV.
Today's hard cider is a far cry from what it used to be. To start, there is now ready access to some of the Northwest's best organically grown apples, hand picked in small batches. Because organic fruit is smaller and has a much more intense flavor!
Add to that, Sonoma Ciders would never pollute this perfection with sulfites, concentrates, added sugar or preservatives. The result is simply better. Much better!
Give these great new ciders a chance and pick some up on your next visit!
Only at Wine World!
Sublime Burgundies from Oregon by...
Brittan Vineyards
Willamette, OR
It took years to find the ideal site, but in December 2004, after an exhaustive search, Brittan Vineyards was finally established on a 128-acre Oregon hillside.
The soils are a mixture of glacial deposits and volcanic material, with a predominant presence of broken basalt. Combined with the cool climate of the Willamette Valley, this site would be the perfect place for him to fulfill a dream.
"For years, I have dreamed of making Pinot Noir in Oregon... From this site I believe I can produce unique wines; wines that speak of this place."
- Robert Brittan, Owner/Winemaker
He has always had a passion for Pinot Noir. Originally, there were 18 acres of mature vines on the property, but close to half of them were subsequently re-planted to specific clonal types and rootstock combinations in order to fine-tune the raw materials that would produce the wines of his dreams.
He sacrificed the entire 2005 crop to allow the vines to fully establish themselves. 3.5 more acres of Pinot Noir were planted in 2008, in addition to 4 acres of Chardonnay and 1.5 acres of Syrah - all of which are now in production. These are varietals that benefit greatly from a cool growing climate.
In the rocky soils with their low water retention it often takes five years or more for new vines to produce the type of fruit Robert Brittan is after. With 40 total years of experience he is keenly aware of what it would take to produce the world class wines that would bear his name on the label.
Prior to opening Brittan Vineyards, he had spent 16 years making wine and managing the estate at Stags' Leap Winery in Napa. Going back to his graduation from UC Davis, he made wines for Far Niente and Saint Andrews - some very prestigious wineries!
Today, in addition to his own wines, Robert is also the winemaker for several other brands in the area. As a result, he gets to work with fruit from all six of the sub-AVA's of the Willamette Valley and has learned first hand that Pinot Noir lends itself to many wonderful interpretations depending on the soils and microclimates where it is grown.
He puts this useful knowledge to work in his own cellar. His vineyards contain east, south and west exposures to choose from, and they are on a cool, windy site on the edge of the Coastal Range. He works like an artist mixing his paints on a palette to yield the exact shade he has pictured in his mind.
Elizabeth and I recently enjoyed a bottle of his "Basalt Block" Pinot Noir with some fresh tuna steak, and found it to be sublime! The complexity of the aromas, density of the flavors, and the way the inky purple color stained the inside of my glass were all wonderful surprises. I hoped for a lot from this wine, but what I received was completely unexpected from a Pinot!
After tasting this wine, I would conject that he has indeed found the perfect spot to make his magic - "such stuff as dreams are made on..."
I urge you to investigate these wines for yourself. Here are the selections that you will currently find on our shelves from Brittan Vineyards:
2012 "Willamette" Chardonnay - 29.99: The fruit for this magnificent Chardonnay was sourced from three vineyards in the Willamette Valley: Thistle Vineyard in the Dundee Hills, Carabella Vineyard in Chehalem Mountain and Hyland Vineyard in the McMinnville AVA, located just above Brittan's own vineyards.
The wine has a rich mouth feel and texture with underlying tones of vanilla and creamy oak. On the palate are ripe flavors of stone fruit, while lingering on the long, elegant finish are hints of bergamot and Meyer lemon. The rich fruit is balanced beautifully with palate pleasing acidity.
2012 "Basalt Block" Pinot Noir - 54.99: The Basalt block comes from the parts of the vineyard that have the heaviest concentration of broken sub-marine basalts, resulting in low yielding vines that produce intense flavors and layers of complexity.
This Pinot exhibits rich notes of blackberry, Italian plum, dried orange peel and cassis, with spice notes of coriander and nutmeg. On the palate, the intense flavors are reminiscent of black cherry, dried blackberry, bergamot, aged black tea and sweet plum. The sweet fruit flavors are supported by a very structured mid-palate, with an intensely focused and lengthy finish.
2012 "Gestalt Block" Pinot Noir - 63.99: The Gestalt Block Pinot Noir comes from the southwest-facing and most exposed blocks in the vineyard; with very shallow, volcanic top soils covering young, dense flow basalts, resulting in a wine that will always be transparent to its vintage and its unique site.
This amazing wine offers rich, intense notes of black cherry, blackberry, orange zest, wet stone, sweet tobacco, sage and lavender, with hints of leather and cedar. On the palate, an intense fruit core consists of blackberry, black raspberry, and plum, with hints of sweet spice. The wine displays a powerful mid-palate that is centered by an abundance of fine tannins, ending in a persistently long finish.
Unaltered... Uncut... Unparalleled!
Maker's Mark Cask Strength Kentucky Straight Bourbon
Straight from the barrel to the bottle at 108 to 114 proof, Maker's Mark Cask Strength retains the signature front-of-the-palate flavors of Maker's Mark while amping up the oak, caramel, vanilla and spice to create a remarkable new bourbon!
Though it's bottled at a higher proof than either Maker's Mark or Maker's 46 bourbons, Cask Strength has a lower proof than most cask strength whiskies on the market today. That's because a higher proof can overwhelm a bourbon with a heavy alcohol taste. At Maker's Mark, they've always been about creating whiskies that taste "yummy."
This one is cask strength, but it's undeniably Maker's Mark smooth.
Although this whisky goes into barrels as clear as water and at a consistent entry proof of 110, the proof will vary. That's because while aging in the barrel house, temperatures vary from place to place and floor to floor - and temperature has a lot of influence on the making of bourbon.
Even though we think of oak as being solid, at a microscopic level it acts a bit like a sponge. In hotter areas of the house, the wood expands wider, allowing more penetration of the whisky into the toasted wood fibers. As it cools, those fibers compress, forcing the liquid back into the barrel. This action gives the pure clear spirit some color, and adds flavor compounds at the same time.
If you've ever been to Kentucky, you know the summer temperatures can fluctuate wildly - so the evaporation rate also differs. Over time, as water exits through the pores of the barrel, the proof increases. If the spirit portion evaporates into the "Angel's Share", the proof drops back down a little. As a result, they're never 100% sure what the proof will be till each barrel is opened.
It's always been that way. That's why whisky makers combine their barrels in a large vat just prior to being bottled - to create a single batch that is then watered down to the desired proof as printed on the label.
We understand that not everyone wants that extra water in their whisky... that's what ice cubes are for! So each barrel of Maker's Mark Cask Strength is measured before bottling, and the results are hand printed on the label to reflect how that particular batch finished out!
One thing's for certain - they're all well above the 86 proof of normal Maker's Mark! Plus you get all of the condensed sweet nutty flavors derived from the oak staves that were carmelized and charred when the coopers assembled that barrel, and the batch number is also printed on the label.
We think Geoffrey Kleinman of DrinkSpirits.com said it best:
"Everything that makes Maker's Mark so
enjoyable is right there in the entry, with a foundation of sweet caramel that supports bright cinnamon and oak spice. Even though it's cask strength, the alcohol never loses its supporting role, and although there's some heat here, it doesn't eclipse the flavors.
A world with a cask strength edition of Maker's Mark is a world we want to live in, and so we're happy that the company has made the move to pull some whisky from their stocks for this release."
While it's not unusual to find this fine whisky in the 375 ml size, Wine World is happy to present Maker's Mark Cask Strength in the rarely found 750 ml bottle, priced right at just 62.99 while they last!
If you've been waiting for the right "over proof" Bourbon, we think you'll find it right here!
Only at Wine World!
A New Take on Tequila!
With Sazerac's New Liqueur,
"Tijuana Sweet Heat"
The Sazerac Company was founded in 1850, and while it may have taken then a while, today we are presenting their brand new take on Tequila!
Tijuana Sweet Heat is a tequila liqueur that starts with a base of pure golden tequila - they mix it with 100% Agave Nectar for the "sweet", and then heat it up with an amazing array of complementary spices!

The initial sweet taste greets you with a big wave of agave syrup that slowly gives way on the
mid-palate to white pepper, roasted agave, and lots of cinnamon to present a taste of tequila you've never before experienced! More muted spices come through at the end to give it an intriguingly sensational finish!
Done as a chilled shot, this new Tequila Liqueur is an absolute revelation! Tijuana Sweet Heat has it all - sweet, easy to shoot, and a taste that lets you know it's all the way live!! And bottled at 70 proof, it leaves room for another shot!
Where true agave spirits and Mezcal-type Tequilas can be a bit abrasive for some tastes, Sweet Heat hits the sweet spot!
So if you're looking to celebrate this Cinco de Mayo with friends, take along a bottle of Sazerac's new Tijuana Sweet Heat and get ready for the fun!
Wine World has it on our shelf right now priced at just $18.99!
Wine & Spirits 2013 "Winery of the Year"!
"Boomtown" by Dusted Valley
In 2003, brothers-in-law Chad Johnson and Corey Braunel left the security of their corporate jobs in Wisconsin to start the Dusted Valley winery in Walla Walla, Washington.
They just wanted to fulfill their dream of crafting world-class wine in the booming Washington State wine industry. There's no way they could ever have imagined that a scant decade later they would be honored as Wine & Spirit's "Winery of the Year"!
They have made it a true family affair! Winemakers, Chad and Corey control the production process from vineyard to bottle while the sisters they married, Janet and Cindy, take care of the administrative and sales management chores.
Using sustainable farming practices, attention to detail, extremely low yields, and a sizeable piece of their souls, they found they could produce grapes of infinite quality. They like to walk the edge and push themselves everyday.
They say "If we don't make mistakes along the way, we aren't pushing our boundaries hard enough. The rewards always outweigh the risks."
This is the philosophy that led to the Boomtown label - a nod to the Dusted Valley family's unquenchable thirst for adventure! Boomtown is crafted for all of those unafraid to step out and leave their comfort zones.
With 4 estate vineyards, and access to 2 others owned by good friends, Boomtown wines are made entirely with fruit from the Columbia Valley. They offer varietal-specific wines made with one goal: to over deliver!
By all accounts, we believe they have achieved the goal! Here's what Elizabeth has just brought to Wine World's shelves:
2013 Pinot Gris - 13.99: Crisp and refreshing with notes of pink apple.
2013 Chardonnay - 16.99: Fresh and vibrant with notes of freshly cut pears framed by balancing acidity. A sure bet for Chardonnay lovers!
2012 Merlot - 16.99: Phenomenal, filled with cherries and dusty malted-chocolate with mouth coating tannins!
2012 Syrah - 16.99: Classic notes of blueberry, juicy black raspberry along with subtle hints of herbs de Provence.
2012 Cabernet Sauvignon - 16.99: Refined, yet rugged, the wine offers wonderful cherry fruit and balancing acid while giving you the rustic complexity of freshly crushed herbs.
The good folks at Boomtown by Dusted Valley encourage you to raise a glass to American ingenuity, and salute those who continue to push the limits in pursuit of the good life each and every day!
We hope you'll give these great tasting wines a try.
Wine World's Got It!
She's Done it Again!
Another Highly Allocated Wine Now on Wine World's Shelves!
We don't know how she does it, but Elizabeth has once again managed to put a wine on her shelves that seem to elude many restaurateurs!
This time, it's an amazing Napa Cab labeled...

Twenty Rows Cabernet Sauvignon, 2013
Twenty Rows wines are made by Brian Nuss who, together with his wife Lori, owns the small family run winery "Vinoce" on Napa Valley's Mount Veeder.
Brian and Lori are dedicated to creating wines that reflect the true expressions of the Mount Veeder Appellation, and over the last 28 years they have developed an intimate knowledge of growing the grapes for their wines on these rugged hillside slopes.
Twenty Rows started as a second label to their premium wines (which command prices upwards of $60!). While much of the fruit comes from their 25 acre estate, they also reach out to good friends scattered throughout the Napa Valley for specific grapes, which allows them to offer these great wines at a reduced price point.
This 2013 offering costs only $25.99, and yet it is made from 90% Cabernet Sauvignon from the Oak Knoll and Mt. Veeder AVA's, 4% Petit Verdot from Coombsville, 4% Cab Franc from Mt. Veeder and 2% Malbec from Oak Knoll - all pretty special places for wine grapes!
They are carefully selected to yield an intense, deeply colored wine of concentrated aromas and flavors. Also Brian's tannin management is an important factor to producing his powerful, yet elegant wines, and has long been a hallmark of his Vinoce offerings!
Knowing only one way to make wines, Brian gives the same level of care to his Twenty Rows label. He uses temperature controlled stainless steel tanks for primary fermentation, and finishes them in French Oak for 12 months for full integration of fruit and oak. When bottled, the wine is always approachable and delicious!
This 2013 Cabernet is full of dark cherries and black currants, and has notes of cedar, sandalwood, dusty cocoa and coffee. A dense texture and a fine sense of balance enhance the pleasing aspects of this agile performer.
As you can imagine, there was not a lot of it made, and what gets released is usually allocated to upscale restaurants and chic boutique wine shoppes.
Wine World would heartily deny such a descriptor for ourselves, because we are here for everyone - not just the privileged few. Still, there exists a clientele in our community to whom wines of this caliber are of particular interest, and we love to fill that niche as well.
When we can offer these types of wines at prices like this, they suddenly become of interest to everyone! And rightfully so! Why shouldn't the rest of us get to enjoy these wines?
The relationships that Elizabeth has nurtured with her suppliers over the years, combined with her and her team's knowledge of what might be available is what allows Wine World to occasionally get the wines that seem unobtainable to others!
Then she does the unthinkable - she prices these wines using the same algorithms that she applies to all of the wines she offers! That's what allows her to offer such amazing wines at these incredible prices, and still keep the lights on!
This special buy was just another in a long line of "flukes", and like the others, when it's gone, it's gone for good!
But while they last, here's your opportunity to snatch up an outstanding bottle of Napa Cab at a price you simply can't beat anywhere!
Wine World's Got It!
By Popular Demand!
Luxardo Maraschino Cherries
You've been asking for them, and we've been trying to get them for you! Finally, we've succeeded!
These are the original Maraschino cherries! The very first of their kind were produced at the Luxardo plant in Zara, Italy about 110 years ago!
The name comes from the Marasca cherry, which is cultivated and distilled by Luxardo for their renowned Maraschino Liqueur.
The cherries are candied in a syrup made from the Marasca juice giving them their brilliant color and magnificent taste! These cherries have garnished more drinks than any other fruit in history for a reason! One taste and you'll know why these are so popular!
And there is a very definite difference between Luxardo Original Maraschino's and the grocery store variety... there's just no comparison! First of all, they aren't dyed a candy apple red color! These cherries actually look like, well... cherries! What is that red color anyway?
The syrup they're packed in is thick, viscous, decadent and delicious! It's not some red sugar water combo! And then there's the flavor - OMG, there's just no comparison!
So, unless you're one who can do that bar trick where you tie a knot in the stem with your tongue - a talent that admittedly never ceases to amaze - you really ought to move up in quality and see what a real Maraschino cherry can do for your cocktails!
Each 400g (14.11 oz) jar contains 50% candied cherries and 50% syrup, and a shelf life of up to 3 years!
There are no thickening agents of any type, no preservatives are used, and the color is all natural! Did I mention, Luxardo doesn't sell you stems... they sell only the finest maraschino cherries packed in syrup!
Wine World is proud to finally have broken through to be able to procure these little gems for you, and we are offering them for just $18.99.
Now that might sound like a lot for cherries, especially if you compare them to the grocery store variety, but as I said before, that's not a true comparison!
These are truly gourmet quality, and I invite you to Google them for yourself just to see how good a price Elizabeth is offering! Plus you don't pay for shipping!
So what more can I say about cherries? Give them a try! You'll never go back!
Wine World's Got It!