What's New?
"Crafty" Cider and Beer
Presenting some crafty goodness from...
Wyndridge Farm
The wind-swept hills of Pennsylvania are dotted with historic farms containing picturesque views of fields and orchards.
Wyndridge Farm in nearby Dallastown is one of these quaint farms - a shining example of the natural beauty to be discovered at the heart of a historic Pennsylvania farm. It has a soul that celebrates life!
It is also York County's first and only hard cider company! They separate themselves from other hard ciders by utilizing the local bounty of high-quality apples found in Central PA and by keeping the ingredients simple.
Wyndridge Farm does NOT add excessive amounts of extra sweeteners (extra sugars, frozen concentrates, etc.) that can make ciders taste more like candy. Instead they prefer a traditional clean, crisp hard apple cider.
The result is a Champagne-style cider - fresh, simple and tasty - with 5.5% ABV, the legal limit for PA cider! (Any higher, it would be classified as wine!)

And because hard cider is naturally gluten free with a refreshing taste, it's one of the fastest-growing segments in the market today! It can even be warmed up to make the perfect drink on a cold winter's day!
Wine World now has their core product, a clean semi-sweet hard apple cider, and their cranberry version made with the addition of real cranberry juice! They are both fresh, clean and delicious, and each is priced at just $11.99/6-pack in 12 oz. bottles!
You may have noticed that Wyndridge's logo features a scarf-wearing fox. The fox is known as an elegant, sly and crafty animal. It visits the farm frequently for a little "fun." This essence captures the spirit that is Wyndridge Farm.
So why not check out these great hard ciders, and kick up a little fun of your own!
* * * * * * *
American, farm-brewed beer!
Not many companies can claim that title, but the brewing done at Wyndridge Farm is pure country! All of their beer is brewed on-site using the best ingredients they can find.
They are proud to reignite the tradition of the historic American farm brewer producing some of the best beer you will find, and they are passionate about bringing this beer to everyone!
This is craft beer on a grand production scale... their facility is a beer lover's site to see. They even provide educational tours of the beer facility, so if you're looking for a fun road trip or a great outing on a lazy winter's day, get in touch with them about a tour or visit.
Then when you get home, swing by Wine World and pick up a sixer of their tasty "crafty" beer! Here's what we have in stock:
10 Point Ale - 10.49/6-pack: Here comes a big, farm-crafted ale! 10 Point is a golden-blonde ale with a trophy-sized, creamy-white head. This beer is beautifully balanced with hoppy floral and resinous notes that create a rich, flavorful, yet drinkable brew. Packed with gusto, yet surprisingly approachable, Wyndridge Farm's 10 Point Ale is the beer you've been hunting for! 4.8% ABV, 20 IBU's.
Laughing Crow IPA - 10.49/6-pack: Laughing Crow is a more intelligent India Pale Ale. It's brewed with a generous amount of quality hops that brings balance to the sweet malts contained inside. The result is a harmony of floral hops mixed with caramel-tinged malty goodness. This IPA will make you crow just a little bit louder! 6.5% ABV, 40 IBU's.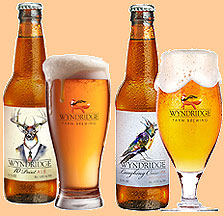 Whether you're into crafty beers or ciders, the good folks at Wyndridge Farm have the taste that will make you smile!
Wine World's Got It!
New Flavor Infused Rums from...
Eastside Distilling
Portland, OR
Eastside Distilling, located on Portland's famed Distillery Row since 2009, is an established, craft distiller with a lineup of innovative, award-winning products that have proven themselves locally and are now taking the nation by storm!
Their "Below Deck" rums are all double-distilled in small batches for unparalleled quality and taste, and bottled at 80 proof to give you everything you'd expect from a hand-crafted premium rum!

Their philosophy is that locally-produced spirits simply taste better, so all of their unique products are made in their home base of Portland, Oregon using all natural ingredients.

We think the taste will also translate to the "Eastside" of the country, so we've added them to our shelves. There's really nothing out there like them, and we hope you will give these new flavored rums a try!
Here's what we've just added:

Below Deck Ginger Rum - 23.99: Below Deck Ginger Rum is a bold and zesty spirit, handcrafted and naturally flavored using only the freshest ingredients.

There's no added sugar, so it mixes well without making your drink overly sweet - although if a sweeter profile is what you're after, it readily mixes with simple syrup or sweetened soda! Either way, it adds a bold and spicy essence to any cocktail!

For a great seasonal favorite, try it in a hot toddy or with hot cider! It also makes a great ingredient for things such as rum balls, pumpkin pie, and just about anything else with a rich, spiced flavor. Below Deck Ginger Rum is the most innovative rum drink you've tasted in quite a while!

Below Deck Coffee Rum - 23.99: Awarded the Silver Medal at the 2011 World Spirits Competition, this new Coffee Rum gets its deep smooth richness from full-bodied Portland-roasted Arabica beans. They gave it all the strong flavor of coffee, but left out the sweet!

Portland takes their coffee very seriously, and they like to say there's so much rich coffee flavor, it couldn't be made anywhere else! Taste it and judge for yourself!

Try Below Deck Coffee Rum today and taste the rich, smooth coffee flavor that the experts agreed was worthy of a medal!

Both of these amazing flavored rums are available on our shelves today! Check them out on your next visit to Wine World!
It's More Fun Below Deck!
A New Concept in Wine
Farmers of Wine Italian Red
Enovation Brands, Inc. has just announced the addition of "Farmers of Wine" to its Italian wine portfolio, and Wine World is happy to present this wine to you on our store shelves!
More than wine, Farmers of Wine is a project created in partnership with authentic Italian wine growers who continue to employ traditional growing methods in a modern wine industry.
"We are extremely proud of this project which is rooted in traditional Italian viticulture," said Alberto Pecora, Enovation Brands, Inc. President. "Farmers of Wine will give consumers the opportunity to experience authentic Italian wine crafted from grapes grown by these distinctive farmers."
This wine tells a story written not by, but in the hands of farmers. Their hands collaborate with the vines to weave a story of family, tradition and the land they know and love.
The vineyards are their homes and they take pride in being true to family traditions which have been handed down from generation to generation.
These traditions have existed long before agricultural certifications such as "Organic" and "Biodynamic", and before the DOC/G wine designations were created.
This is the wine they made for their own table!
The unique character of each farmer is reflected in their vineyard and the grapes harvested from the vines. Viticulture is their passion and their passion is manifest in every bottle of Farmers of Wine.
Currently available, the authentic Italian Red Blend is a combination of Negroamaro and Zinfandel (known as Primitivo in Italy) from Salento in Puglia. Located between two seas in southern Italy, Salento is a region rich in history and culture.

Here, Italian farmers have used the iconic "alberello" (meaning "little tree") trellis to cultivate these native varietals for over 2,000 years. This ancient method ensures the vines yield fruit of the highest quality in the hot, sunny Mediterranean climate.
With a deep, ruby red color Farmers of Wine Italian Red displays intense, bright aromas and a fruity, flowery bouquet. The wine is fat and jammy with a mouth filling character and well balanced sweetness and acidity.
The bottle is as distinctive as the wine inside. A natural paper wrapper envelopes the bottle and communicates the brand message. Priced at just $12.99 per 750ml, Farmers of Wine Italian Red blend is on our shelves now and waiting for you!
Only at Wine World!
From the Maker of
Cakebread Wines!
2012 Mullan Road Cellars
Red Blend
Mullan Road Cellars is a journey into Washington winemaking led by Dennis Cakebread of Cakebread Cellars.
Drawn by the high quality of wines and the camaraderie of the Walla Walla wine community, Dennis and winemaker Aryn Morell worked with the famed Seven Hills Vineyard for much of the fruit. The remainder is sourced from prime vineyards in the soon-to-be-recognized Royal Slope appellation!
Aryn is a Washington State native who has extensive experience in the Columbia Valley as well as with high-profile Napa wineries.
These skills, this outstanding fruit, and the brain trust that has been brought to bear on this project have resulted in the magnificent 2012 Mullan Road Cellars Red Blend.
The wine is an elegant and age worthy Bordeaux-style blend of Cabernet Sauvignon, Merlot and Cabernet Franc. It offers vibrant notes of blackberry, black
currant, plum skin and dark baking spices.
Concentrated and polished, with a touch of dried herbs, tea leaves and a dried berry potpourri, the taste is powerful yet elegant. The fruits are ripe though poised with fresh squeezed berries, licorice, toast and raspberry intermingling with an intriguing hint of smoke and resin.
The palate is polished and beautifully textured, with finely integrated tannins. It pairs well with any red meat on the grill, pork tenderloin, heavy cheeses and grilled vegetables.
Wine World is proud to announce the arrival of this premium Columbia Valley offering. Each bottle bears the number of the barrel, and is signature stamped by Dennis Cakebread as his personal assurance of the quality of the wine.
Wine World has a limited number of these bottles available now listed at just $49.99. At this price, you might want to get a few and lay them down in your cellar to gracefully age over the next several years!
Or, if you don't have the patience, you can just enjoy it now! Either way, you will surely recognize this one as an emerging star!
Wine World's Got It!
New from The Wine Trees Portfolio...
2010 "The Auctor" Red Blend
"Something new, from traditions old
Blended grapes, create the bold
Feel this all, as it was created
Don't refrain, until you're sated."
from The Auctor

Known for being a cultivator, an originator, and above all else, an authority figure - the Auctor possesses the ability to make people do what he wants... just by being who he is.

When Chaucer wrote of "Mine Auctor", he suggested that this figure had the ability to take already established ideas and promote them with original style.

It is with this simple philosophy that we present "The Auctor" - a unique combination of old world tradition and new world edge. This new presentation of already renowned varietals is everything the Auctor defines.

2010 "The Auctor" - 17.99: This is a wonderfully unique new red blend from Paso Robles contains 35% Barbera, 18% Grenache,
17% Counois, 14% Mourvedre, 9% Zinfandel and 7% Tempranillo. Hardly your typical red!

This wine has a deeply concentrated, baked brick-red hue. Light aromas of rose petals and strawberry rhubarb pie ascend from a nose led by warm baking spices and crushed clove.

Once past the lips, stewed black cherry and sun ripened blackberry bramble flavors engulf the tongue while toasted oak flavors unite the fruit and spice to create a harmonious, balanced wine.

This savory wine is the perfect accompaniment to your grilled steaks and marinated pork chops. Try a filet mignon with béarnaise sauce, or venture to a pork tenderloin smoked with cracked black pepper and roasted fennel with a sprinkling of parmesan cheese. Your taste buds will dance!
Look for "The Auctor" in our North American blends section, or ask one of our friendly, helpful team members to show it to you...
Only at Wine World!